In Singapore, businesses are assigned a unique company registration number by the Accounting and Corporate Regulatory Authority (ACRA) or other Unique Entity Number (UEN) issuance agencies. It is provided to those that will operate inside the country. 
A UEN is a distinct code assigned to companies, which will allow them to easily transact and interact with the country's government agencies. Since its introduction, the UEN has become the official identification number of nationally-approved businesses. Read on to find out more about the things you need to know about your company's UEN.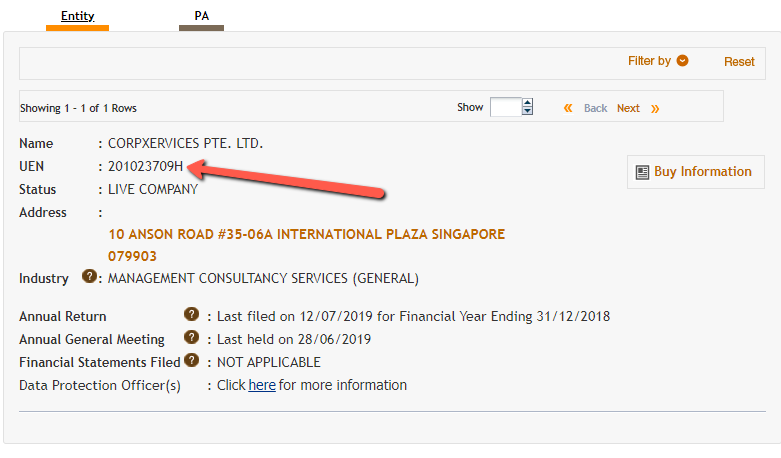 Is UEN the same as the company registration number?
UEN is previously known as the company registration number in Singapore. It was in 2009 when the Ministry of Finance and the Accounting and Corporate Regulatory Authority (ACRA) launched the UEN.
Who needs to have a UEN?
Singapore-based companies that will engage in regular or continuous dealings with the government are required to obtain a UEN. This includes the following entities:
Local businesses

Limited liability partnerships (LLPs)

Trade unions

Representative offices

Healthcare institutions
Every UEN is permanent and will not be modified even if your business particulars change. 
Who are exempted from getting a UEN?
Individuals
Individuals are not required to get UEN. They are, however, required to have their own identification number that is reflected on their NRIC or National Registration Identity Card. 
Entities with a One-off or No Interaction with the Government
This includes businesses that will only transact with one government agency on a one-off basis.
Sub-entities of a Singapore Company 
Sub-entities that are classified as a branch or division only are exempted from getting UEN. 
What is the function of UEN?
Generally, the UEN is the distinct identifier of a business that is used to correspond and interact with the government. Thanks to the UEN, you do not need to acquire different numbers to represent your company every time you need to transact with a government agency.
What does a UEN look like?
Depending on the UEN Issuance agency, each UEN follows a particular format. Generally, the format is a string of 9 or 10 characters comprised of the following:
Alphanumeric (a combination of numbers and letters)

The issuing agency

Entity type

The year when the UEN was issued
Foreign businesses that are registered with ACRA will also be issued their corresponding UEN.
How do I check if a business entity has an existing UEN?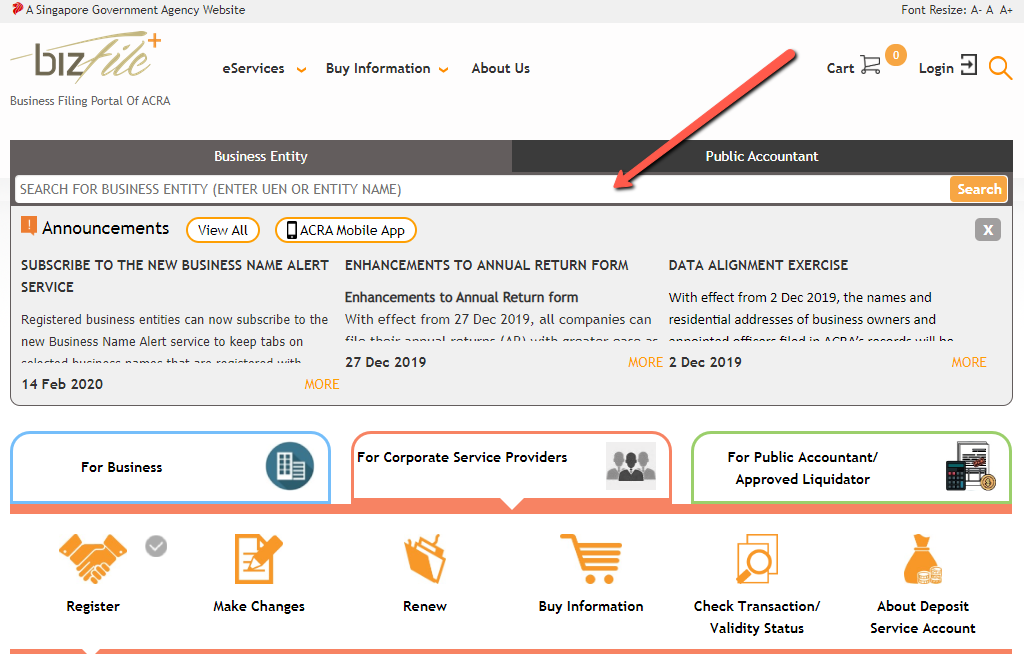 If you want to determine if a particular entity has already been assigned with a UEN in Singapore, you can do a company name or registration number check through ACRA's Bizfile website. It will give you the following details:
Complete registered name of the business

UEN

Status of the entity

Registered address

Type of industry
The website will also present details regarding the company's latest annual return, date of the last annual general meeting (AGM) and if financial statements were filed. If you want to know who the UEN Issuance Agency of the business is, you can search for it through UEN's website.

Furthermore, doing a company registration number check in Singapore is important, especially if you are doing a background check on a business entity. With this step, you will be able to determine if the business is in good standing, thus, helping you avoid fraudulent entities.
What is the ROC number of a company?
ACRA is the Registrar of Companies (ROC) in Singapore. ROC is commonly known in other countries such as the United Kingdom, India, and Bermuda. ACRA was formed in 2004 when two government agencies—the Public Accountants' Board (PAB) and the Registry of Companies and Businesses (RCB)—merged. Since then, the firm has been the national regulator of all businesses registered in Singapore. Having said that, a company ROC number is also known as the UEN.