Singapore has a business-friendly environment, making it easy for individuals to register their company. The whole registration process can be completed in a day, given all the requirements are duly submitted. This article lists the important things you need to keep in mind that will help you start your business in Singapore within a few days.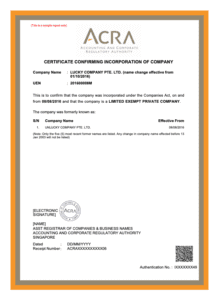 Business Registration Requirements in Singapore
Before you can register your business, you need to have these details ready.
Company name. Generally, business owners should ensure that their desired company name does not contain vulgar or inappropriate words and is not identical to an existing entity. Business industries that will be overseen by governing bodies, such as medical or legal services, may need approval or referral from relevant authorities before proceeding with the name reservation. Accounting and Corporate Regulatory Authority or ACRA Singapore lists these referral authorities on their website.
Principal Activity. Like the company name, it is also vital that the business owner decides on the entity's principal activity. A list of activities is set out in the Singapore Standard Industrial Classification or SSIC. This will also be known as your company's SSIC code.
Company directors and shareholders. It is a mandatory requirement that at least one director is a resident in Singapore. He or she will be responsible for fulfilling the criteria stipulated in the Companies Act. In addition, it has been the norm that directors and shareholders disclose their personal details as part of the incorporation process.
Company secretary. According to the Companies' Act, each business is required to employ a company secretary within six months from the date of incorporation. He or she ensures that the directors and shareholders are well-informed of statutory obligations (which include annual general meetings and annual filing of audited accounts).
Registered office. Each company should have a locally registered address in Singapore. It should meet the following conditions:
Not a P.O. Box

Open for at least five hours during ordinary business hours

A physical office located in Singapore
Paid-up Capital. Singapore's minimum paid-up capital to set up a company is $1. This amount can be increased anytime.
Constitution documents. These documents refer to the company's memorandum and articles of association (M&AA) that govern how the business should operate. Business owners should be meticulous before signing and approving the noted conditions to avoid complications at a later date.
Once you have these details ready, you can start registering your company with ACRA Singapore. You will be issued a Certificate of Incorporation and a Business Profile that contains key information about your company.
Frequently asked questions about business registration in Singapore
I am a foreigner and want to open up a business in Singapore. What are the mandatory requirements I need to submit?
The requirements for Singaporeans and foreigners are the same. It is a must, however, that companies comply with the following details:
The business should have a minimum of one shareholder. For multiple directors and shareholders, one individual should be a local resident of Singapore.

The business should have a Singaporean company secretary. If there is only one director, he or she cannot fulfil the role of a secretary.

The business should have a local registered address.

The business's initial share capital is a minimum of $1.
How long does it take to register my business in Singapore?
The duration of the registration is dependent on the preparedness of the applicant. Ideally, the total time can be one day to a few days.
What is ACRA?
ACRA or the Accounting and Corporate Regulatory Authority is a government agency in Singapore that oversees company registration and compliance. All businesses are registered through ACRA's online filing system known as BizFile. Some entities hire professional corporate service providers (CSP) to conduct transactions on their behalf.