Secretarial services play an important role in the corporate world. They are provided by experienced and adept individuals that act as the company's supporting structure. Both small and large businesses seek their aid in performing duties that range from administrative to legal functions.
A corporate secretarial service can help and guide you through the challenges of setting up and maintaining your business. The provider's assistance eases your administrative burdens, allowing you to focus on more important legislative requirements.
Benefits of Hiring a Provider of Secretarial Services
Secretarial services are sometimes referred to as the backbone of a company. They deliver assistance on your day-to-day tasks to ensure smooth business operations. Individuals from such providers render services in a wide range of demanding roles, including the following:
Light bookkeeping. Generally, accounting tasks are handled by a qualified or certified accountant. However, light bookkeeping can also be outsourced to a professional secretarial service firm. The assigned individual should have a clear understanding of bookkeeping basics and maintains an accurate record of all the company's financial transactions.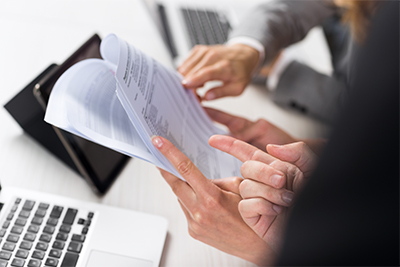 Statutory filings. When business owners use the aid of a credible secretarial service provider, they can be assured of the timely completion of their statutory filings. The company does not need to worry about the serious consequences of missing a deadline as their assigned secretary takes care of these legalities.
Corporate compliance. ACRA or the Accounting and Corporate Regulatory Authority is a government body that oversees business compliance in Singapore. If they do not receive a company's annual report on time, they will contact the nominated secretarial service to accomplish such task. 
Transcription services. Providing a clear and accurate transcription of audio materials is a complex job. This responsibility often requires excellent typing skills, rapid comprehension and linguistic fluency that takes years to master. There are secretarial services that specialise in professional transcription providing quality results even on an as-needed basis.
Nowadays, the notion that a secretary takes notes from the employer and does some typing is outdated. Some individuals who provide secretarial services see this opportunity as a stepping stone to their career.
Qualities to look for in a Secretarial Service Provider
There are a lot of secretarial service providers in Singapore and choosing one may be a difficult task. Top firms showcase individuals that have the right combination of skills, experience, and commitment. Below are a couple of things to consider when exploring your options for the best company secretary.
Highly trained professionals.

The secretarial service provider must have highly trained individuals. Since a company secretary plays a great role in the success of your business, you should consider their industry experience and knowledge of compliance procedures.

Good value for money.

When hiring a company secretary, you should make sure that you get what you pay for. Secretarial service providers will make sure that hiring a third-party firm is more cost-efficient than employing an in-house secretary.  
Nowadays, the notion that a secretary only takes notes from the employer and does some typing is outdated. Looking at ACRA's specifications, you'll see that a company secretary has more important functions, helping you with the overall business operations.
Need assistance with incorporation, immigration, accounting and other business services?
CorpXervices
is ready to aid you.
We have an experienced team with over 20 years combined experience to help companies in filing secretarial records while providing different options for your business structure.
Government filing and accounting regulations may affect your business operations. Therefore, it is important to get it correct the first time when it comes to these technical requirements. Let us help your business run smoothly. Contact us to get a free consultation today!